Earlier Beltway Plans
The idea of a beltway around Hartford is more than 80 years old.
In 1930, State Highway Commissioner John MacDonald proposed to the Metropolitan District Regional Planning Board a rectangular highway, 80 to 100 feet wide, with two new bridges over the Connecticut River. Starting in South Glastonbury, the road would head north to South Windsor, then across to Windsor. Continuing west, skirting north of Keney Park, the road would head to the reservoir area, then turn south to Newington; then the final leg would head back to South Glastonbury.
Though this highway was not built, parts of its alignment are very close to modern freeways and arterial routes. The top side in Bloomfield, Windsor and South Windsor follows the cancelled I-291, present-day Route 218 and present-day I-291. The right side follows proposed I-284 and present-day Route 2 and Route 17.
In 1937, MacDonald presented the state legislature with a more ambitious plan: a $100 million extension of the Merritt Highway (now the Merritt Parkway) past Hartford and into Massachusetts.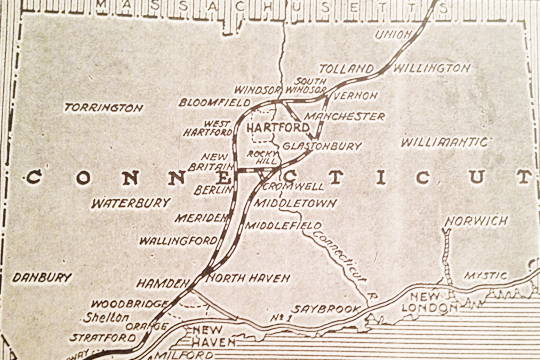 State Highway Commissioner John MacDonald's $100M plan for extending the Merritt Highway included a beltway around Hartford, a spur to US 1 in Branford (see Route 22) and connector roads.
The 1937 plan includes two branches that would make Hartford "the center of a huge rotary traffic circle", forming a loop through New Britain, West Hartford, South Windsor and Glastonbury. The circle would include two new bridges: one from Rocky Hill to South Glastonbury, and one six miles north of Hartford (south of today's Route 305).
This beltway did not come to fruition either; but historians can see the ancestor of the cross-state Route 15 in the above map.
In late 1953, the state highway department filed with the Windsor town clerk a map of "a road parallel to Wolcott Avenue, running east from [future I-91] to the Ellsworth Memorial Highway [a name that no longer exists; probably Route 159]... a highway is being built from Bishop's Corners in West Hartford to connect with an expressway cloverleaf... [which] will also connect with the new road that will parallel Wolcott Avenue." This resembles the later I-291 proposal through Bloomfield.
In 1959, Gov. Abraham Ribicoff cancelled the proposed North-South highway in West Hartford, a six-lane freeway that would have extended from US 6 at Corbin's Corner (east of today's I-84 stack interchange at Route 9) to the Bloomfield town line. This was also close to the future I-291 corridor and would have been incorporated into those plans.
The Original Plan
The original location of Interstate 291, approved by AASHO in early 1959, was a loop around Hartford on the west side of I-91 only. The existing I-291 was not part of this plan, but was added in December 1968, as part of that year's Federal Aid Highway Act. (Connecticut's first officially proposed 3-digit interstate was I-491 in November 1958.)
Interstate 291 was to start at I-91 in Rocky Hill, between exits 23 and 24. Construction on the I-91 interchange and a short distance of I-291 actually started, and was halted, in 1973. There's still evidence of this work: a wide spot in I-91, cuts in earth and rock, and some unused concrete. A never-used flyover ramp for I-291 westbound was dismantled in 1999 when I-91 was widened there. (See aerial image at Google Maps.)
I-291 would have continued west into Newington, with interchanges at the Berlin Turnpike (US 5/Route 15) and Route 174. Near New Britain, a short connector freeway would have provided access to Route 72.
Northeast of New Britain, I-291 would have continued where Route 9 does now, to the four-level "stack" interchange in Farmington. This interchange, built when I-84 opened in the late 1960s, also anticipated the construction of I-291, but instead lay unused until Route 9 was extended there in September 1992.
I-291 then would enter the most controversial part of its route: northerly alongside several reservoirs serving the Hartford area. After interchanges with Route 4 and US 44, and a proposed US 44 freeway to the northwest, I-291 would have turned east near the Route 218/185 intersection, and paralleled Cottage Grove Road (Route 218) into Windsor to meet I-91 again.
The section from I-91 in Windsor to I-84 in Manchester was originally to be a state route extension. In 1961, this was part of the state's expressway plans, but didn't yet have a route number. Later this section was added to the planned I-291, and ironically is the only part that exists today.
Plans and Public Hearings
In the late 1950s, with its new number in hand, the I-291 proposal was brought to the public. Corridor hearings, to determine the highway's general location, were held in 1959 and 1961; more detailed design hearings, held after the corridor was decided upon, were held in 1969 thru 1971.
In early 1964, the proposed I-291 profile of four to six lanes was increased to six to eight lanes.
In mid-1966, construction of I-291 was anticipated to start in late 1968 and finish in 1971. The combination of 20 miles of I-291 and 6.7 miles of I-491 was expected to cost $143 million.
In October 1967, bids were scheduled to go out that fall for the stack interchange at I-84. Bids for the northern I-91 interchange and a section from Route 4 to US 44 were expected to go out in 1969; and bids for the remaining portions in 1970. I-291 was expected to be complete in 1972.
Northwest: West Hartford, the Reservoirs, Bloomfield, Windsor
The northwest leg of I-291, about 12.5 miles long, was cancelled in 1973. The corridor passed by several reservoirs that serve the Hartford area and was environmentally sensitive.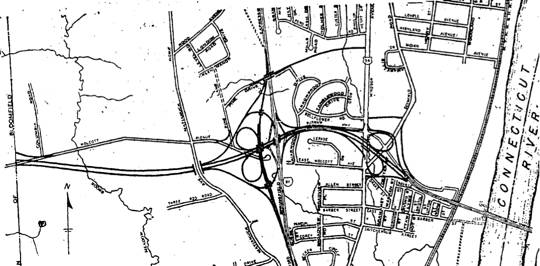 This 1959 plan for I-291 in Windsor included a full interchange at a realigned I-91 and a six-ramp interchange at Route 159. Strictly speaking, the freeway east of I-91 would not be considered part of I-291 until federal mileage was added for it in 1968.
In late 1963, the state was planning to complete I-291 from Corbins Corner to I-91 in Windsor by 1969. As 1969 arrived, work had not started, but in May of that year the Capitol Region Planning Agency (RPA) approved a location for the route. The planned expressway would be six lanes wide, but soon the design was expanded to eight lanes.
The reservoir location was problematic, though; concerns over environmental impact included fluid runoff from the roadway. Not only would I-291 pass through, but an interchange with a US 44 freeway was planned.
In February 1970 planners were discussing shifting I-291 west, close to Route 10 in Avon. Governor Dempsey asked for a design review in March 1970, and in April the DOT halted planning and design until location questions could be settled. That month, the Capitol RPA resumed studying the route.
In June 1970, a federal review of I-291 started; right-of-way acquisition and construction would be put off until the review was done.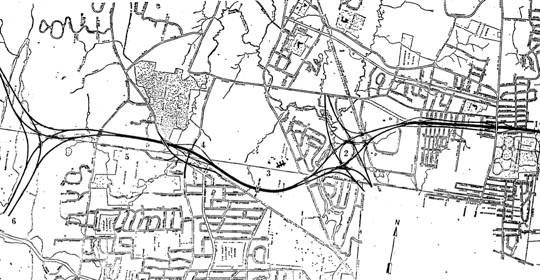 This 1959 plan for I-291 in Bloomfield included interchanges for a US 44 freeway, Route 218 (Hall Blvd.), a Route 189 freeway, and Route 187.
In October 1970, ConnDOT announced that I-291 and US 44 would not be built along the reservoirs, or in a protested area of South Bloomfield. The same month, the state transportation commissioner said he would not seek federal approval for any I-291 plan, but instead wait for the next governor to decide. Thomas Meskill took office from John Dempsey in 1971.
In February 1971, Gov. Meskill favored keeping I-291, but moving it away from the reservoirs. In June 1971, the state senate passed a bill preventing construction of I-291 there. In August 1971, the state proposed locating the highway 500 feet east of the reservoirs, but in September unveiled a plan to place it west of Talcott Mountain, paralleling Route 10 and Route 185.
In October, the federal goverment said the western I-291 plan was not feasible, because the six to eight additional interstate miles needed could not be allocated. Gov. Meskill still supported the highway.
In July 1973, I-291 was cancelled between I-84 in Farmington and I-91 in Windsor. No expressway bypass of Hartford in the northwest has ever been built.
Southwest: New Britain, Newington, Rocky Hill
The southwest leg of I-291 was about 7.6 miles, and was to cost $48 million in the 1960s. Construction was expected to start in 1971 and finish June 1974. It was cancelled in 1979. This segment did not have the high-visibility environmental issues of its northwestern counterpart, but more developed properties were affected.
This segment would have had six interchanges: a four-level stack at I-84 in West Hartford; a four-ramp interchange at Route 175; an expressway connector to Route 72 in New Britain; a four-ramp interchange at Route 173; a high-volume interchange at the Berlin Turnpike, and a directional T at I-91. Early plans for the Berlin Turnpike included a cloverleaf interchange there, but by 1970 the design had been changed to a split-level diamond (aka volleyball) interchange.
In February 1971, the state completed its plans for I-291 here, and in Feb. 1972, the final Environmental Impact Statement (EIS) was submitted to the FHWA. In November 1972, the FHWA divisional office granted formal design approval, but requested ConnDOT give further consideration to noise and air quality impact.
In June 1973, the FHWA divisional office approved state "plans, specifications, and estimates" for 2 miles of 291, from I-91 to the Newington town line. On September 19, 1973, construction actually began on this portion of Interstate 291. Grading, clearing, and drainage work was started.
In November 1973, a lawsuit was brought against ConnDOT and FHWA regional executives claiming the EIS was not thorough and gave short shrift to impacts and alternatives (such as connecting routes 9 and 72). Construction was halted.
In February 1976, ConnDOT announced they would change the designation of the proposed southwest leg to I-491, with the stated purpose of avoiding confusion with the earlier, larger I-291 plan. (The proposed northeastern I-291 segment, now disjoint from the southwest segment, was still alive.) The I-491 designation had been used earlier for the southeastern bypass from Wethersfield to East Hartford. Some I-291 opponents countered that the new I-491 designation wasn't fooling anyone, or that the number change was actually more confusing to citizens interested in the project. In June 1976, ConnDOT announced it would the number change.
In March 1979, the southwest segment of I-291 (or I-491) was cancelled.
Northeast: Windsor, South Windsor, Manchester
The only segment of I-291 to be built was not part of the original plan. The idea of a freeway here surfaced in the late 1950s or earlier, as the Bissell Bridge and approaches opened, but not as part of I-291 proper. By 1960, there was a definite plan for a cloverleaf at US 5 and an extension to I-84.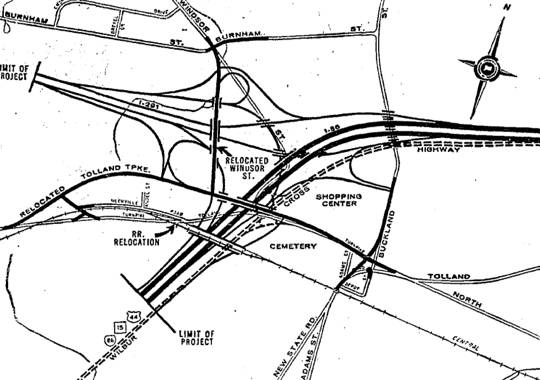 This 1971 plan for reconstructing I-86 (now I-84) in Manchester included an elaborate interchange for I-291. The actual touchdown point for today's I-291 is farther west on I-84.
The 1968 Federal Aid Highway Act added 1,500 miles to America's interstate highway system, including 6.1 miles for I-291 from I-91 in Windsor to I-84 in Manchester. I-291 would extend three-quarters of the way around Hartford, from Rocky Hill to Manchester. All that had to be done was build it. (And the small matters of funding, design, public comment, environmental approvals, ...)
After the I-291 cancellation: Tri-Town Connector
Although I-291 west of I-91 was cancelled, some plans were made (and some roads were built) in the former I-291 corridor.
Newington businessman Frank Eddy added a "People for a Parkway" plank to his 1976 run for state assembly, pushing for a highway in the I-291 right-of-way. This didn't go far.
In the corridor from I-91 in Rocky Hill to the vicinity of the Berlin Turnpike in Newington, an arterial road called the Tri-Town Connector was proposed in the late 1980s. The road would use the directional T interchange proposed for the I-91/I-291 junction, and have at-grade intersections with crossing streets.
Though the connector has not been built, the town of Wethersfield 1999 Plan of Conservation and Development recommended preserving the right-of-way for a future east-west road. Such a road could alleviate traffic on Route 175 and Route 287, both east-west roads in the area.
The Capitol Region Council of Governments (CRCOG) conducted a corridor study of Route 175 and Routes 5/15 and also recommended building the Tri-Town Connector.
The new DOT building, on the Berlin Turnpike in Newington, was constructed on land originally meant for I-291.
After the I-291 cancellation: New Britain - West Hartford
I haven't seen plans for any follow-on roads in the I-291 corridor between the Berlin Turnpike and New Britain. But north of New Britain, an expressway was built in I-291's path. The Taras Shevchenko Expressway, an extension of the former Route 72/I-291 connector to Route 175, opened in 1986. This highway was extended to the "stack" interchange at I-84 in 1992, and became part of an extended Route 9.
After the I-291 cancellation: West Hartford - Bloomfield - Windsor
No follow-on highway is planned in the reservoir area of West Hartford. But in 1974, shortly after I-291 was cancelled, the state studied relocating Route 218 as a four-lane divided highway with access partially controlled.
The relocated highway would have continued east from the Route 218/185 intersection, passing through the Connecticut General campus, and paralleling Cottage Grove Road to the south until nearly reaching Blue Hills Avenue. An undivided four-lane road would have continued, carrying Route 218 to exit 35 at I-91.
This was not implemented. However, Route 218 was widened to four lanes divided in-place and extended east to I-91/I-291 in 1994.
Aftermath: what was actually built
A small portion of Interstate 291 opened in conjunction with the reconstruction of Interstate 91 in Windsor. The section across the river to US 5 opened first, in 1992; the remainder, to I-84 and I-384 in Manchester, opened on Sept. 9, 1994. Interchanges are provided at Route 218, I-91, Route 159, US 5, Tolland Turnpike, and I-84.
I-291 connects to I-91 at a modified trumpet interchange; no extension to the west is anticipated. The I-291 roadway occupies a third level above a diamond interchange (with HOV ramps) at I-91 and Route 218. Long feeder ramps branch from the loop in the trumpet and meet Route 218 about ½ mile to the west, providing access between 291 and 218.
The state originally planned for a cloverleaf interchange at US 5; the "left turn" from I-291 east to US 5 north is one of the busiest at the interchange. However, only a four-ramp partial cloverleaf was built; officials at a public hearing cited costs involving relocating the Conrail track alongside US 5 for the design change. What would have been a loop ramp from 291 east to 5 north is now an actual left turn with a traffic signal.
A planned half-diamond interchange at Chapel Street to and from points west was moved to Burnham Street; then opposition from East Hartford residents led to ConnDOT scrapping the interchange altogether.
The Bissell Bridge and CT 291
This four-lane bridge, which opened on Dec. 16, 1957, carries I-291 across the Connecticut River. It was originally called the South Windsor Bridge, or Wolcott Bridge, for the Wolcott Avenue connector to it. On September 9, 1960, it was dedicated to Capt. John Bissell, captain of the Connecticut Troops from 1657 to 1676, who led the settlement of the Windsor area.
For three decades, the Bissell Bridge carried state Route 291, built in preparation for the planned interstate. Starting at a diamond interchange at I-91, a four-lane divided surface road followed today's Route 218 eastward, with at-grade intersections leading to the bridge approach.
After crossing the four-lane bridge, Route 291 continued as a freeway, overpassing Main Street and terminating at a spread half diamond interchange with US 5. These were to be two outside ramps of a full cloverleaf there, but later the state built a four-ramp partial cloverleaf instead. Building the full cloverleaf would have required relocating a railroad track on US 5's eastern side.
Barbara Surwilo, Freeway Fighter
A history of I-291 would not be complete without mentioning Rocky Hill resident Barbara Surwilo. In 1973, she and her husband moved there from Hartford, in a six-year-old house that happened to be a few hundred yards from one of the I-291/I-91 connector ramps. The real estate agent had said the ramp would never be used (we've all heard similar things from realtors) but a tip from a neighbor and a trip to town hall proved otherwise.
Instead of trying to unload the house, Surwilo stayed and fought I-291, spending an average of 30 hours a week on meetings and research. She has bachelor's, master's, and Ph. D degrees in biology, but the political fight called on other skills. Six years later, I-291 was cancelled. She was profiled in the Aug. 8, 1979 issue of the Parade Sunday supplement.
Surwilo later served four terms as Mayor of Rocky Hill and as of 2012 serves on the town council.