Route 9 was commissioned in 1932, its path taken from the old New England Interstate NE-10. That highway, in existence from 1922 to 1931, generally followed the Connecticut River from Old Saybrook into northern New Hampshire.
The Original Route
Route 9 originally started in Granby, following a southeast diagonal through Hartford and Middletown to Old Saybrook. This route is now shared by all or parts of Route 189, Route 99, and Route 154. For the exact route and driving directions, see "Drive the Original Route 9," below.
Upgrading Route 9: planning
Freeway plans for Route 9 date back to at least the early 1950s. A 1953 Thruway Plan for the state called for a freeway from the proposed US 5 freeway in Berlin (which saw fruition as I-91 in Cromwell) through Middletown to the proposed US 1 freeway (now I-95) in Old Saybrook. All of this was complete by 1969, except for the at-grade boulevard in Middletown, which was never upgraded.
In 1961, the state's long-range plans for Route 9 included an expressway from the northwest into Hartford, following today's Route 189, and meeting I-84 at Sisson Avenue (exit 46). After a short overlap with I-84 westbound, Route 9 would use a proposed Cedar Ridge Connector (SR 504) to reach the Berlin Turnpike in Wethersfield, where the US 5/Route 15 expressway merges with it. Somehow (the report didn't specify), Route 9 would transition over to I-91 in Cromwell. Then the new Route 9 would diverge southeast, passing through Middletown on the way to Old Saybrook.
In 1963, the state announced plans for a 55-mile Route 9 expressway, four to eight lanes wide, from proposed Route 10 and Route 20 expressways in Granby to I-95 in Old Saybrook. The route in Hartford was changed from the 1961 plan. Instead of using the Cedar Ridge Connector, Route 9 would use the planned Bushnell Park connector (later proposed as I-484) and an overlap with I-91 to reach Cromwell.
In another proposal, Route 9 southbound would diverge from I-91 near the Putnam Bridge, and parallel today's Route 99 toward Middletown instead of overlapping with I-91 into Cromwell.
The Cedar Ridge Connector was still in state plans, but no longer part of Route 9. It was later cancelled. The long exit ramps at Exit 45 (SR 504) would have been the northern terminus of the freeway.
A few roads existing today recall the Route 9 plans: the Flatbush Avenue connector (SR 504), the Sisson Avenue interchange with dead-end ramps to the north (SR 503), and a short freeway in North Bloomfield (Routes 187 and 189). For detailed information about the northwest Metro Hartford plans, see: Woods River Expressway.
In the end, Route 9's development was not played out as scripted; two traffic lights remain in Middletown, the northwest Hartford section was never built, and Route 9 has since incorporated pavement and right-of-way meant for three other freeways (Route 72, SR 506, and I-291).
Building Route 9: Hartford
When the South Meadows and Conland-Whitehead highway (now parts of Route 15, I-91, and SR 598 leading from the Berlin Turnpike to the Capitol) opened in 1945, Route 9 soon hopped aboard and took that route into Hartford. (The Whitehead Highway was later slated for the proposed but never completed Interstate 484.) Route 9 went this way until 1963, when its north end was set to the Route 15 interchange (now with Route 99) at the Hartford-Wethersfield line.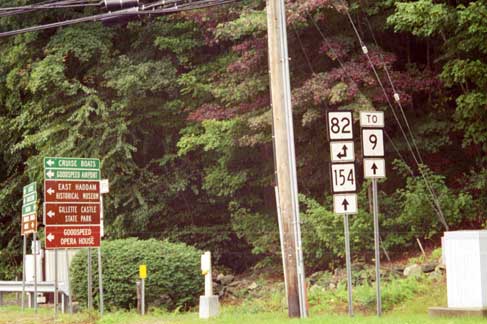 A trailblazer for Route 9 guides the motorist along routes 82 and 154 in Haddam. The nearby Route 82 Connector leads to the Route 9 expressway. Photo taken Sept. 2002 by Kurumi.
Route 9 Opening Dates
Some of these are not precise yet, because I haven't tracked down the requisite documents. From south to north:
Old Saybrook to Essex at exit 3 (3 miles): December 1966.
Essex to Higganum at exit 9 (11 miles): June 25, 1968. This was scheduled to be done in fall 1967 but a six-week truckers strike delayed this until the next season.
Higganum to exit 10, Route 154: 1966
Exit 10 to Route 17: 1959
Route 17 through the Acheson Drive portion in Middletown: Sept. 15, 1950
Middletown to I-91: 1969
I-91 to Berlin Turnpike: December 21, 1989
Berlin Turnpike to SR 571 ("to 71 and 372"): Nov. 1, 1962. Originally part of Route 72.
SR 571 to Ellis Street, New Britain: Aug. 14, 1969. This "Ellis Street Connector" was first incorporated into Route 72.
Ellis Street to Route 72 interchange: Nov. 22, 1978. Originally part of Route 72.
Route 72 interchange to Route 175: July 17, 1986. Taras Shevchenko Expressway; originally SR 506 and a planned connector to I-291.
Route 175 to I-84: Sept. 30, 1992. Originally to be part of I-291.
Building Route 9: Cromwell to the Shore
For over 20 years, Route 9 simply completed a triangle with Interstates 91 and 95, providing access to Hartford and the beaches via Middletown. The oldest segment of this road, a short freeway/boulevard segment from Route 99 to the vicinity of the route 17 connector in Middletown, was studied in the mid-1940s and opened in 1950. This section features two signalized intersections that remain today, despite plans to build interchanges to replace them.
Jay Hogan writes that the state was considering sending Route 9 across the river to Portland using two new bridges, and converting the current waterfront Route 9 area in Middletown to a shopping/recreation area.
Most of Route 9 south of I-91 opened in the late 1960s. Some funding problems in late 1964 led the state to consider opening a rural section of Route 9, between Route 81 and the Chester town line, to 2 lanes initially. A truckers' strike delayed the opening of this section to mid-1968, but it was opened with four lanes.
The interchange at I-91 in Cromwell included rock cuts for a freeway and ramps heading west, to extend Route 9 to Route 72 in Berlin. These were eventually used in 1989, but with a few modifications: the left-hand exits once planned from I-91 north and Route 9 south were converted, by means of a flyover and a loop, to right-hand exits, which are safer.
After Route 9 was complete, the old Route 9 north of Middletown became Route 99, and the old portion south became Route 9A. (In 1986, Route 9A was absorbed by Route 154.)
The Central Connecticut Expressway
Since the mid-1950s, the state had planned to construct Interstate 291 as a circumferential freeway around Hartford via Rocky Hill, Newington, West Hartford, and other towns. A few miles south, another freeway would connect Route 9 in Cromwell to Route 72 in Berlin; more miles of Route 72 in New Britain would connect to I-291 via a short spur.
However, I-291 ran into opposition early and never was built. The state then concentrated on building the Central Connecticut Expressway, a highway running through Cromwell, Berlin, and New Britain, connecting to I-84 in West Hartford. This would be an extension of Route 9.
In 1979, a short 10-lane stub was built in New Britain, leading northward from the "elbow" in Route 72. There had long been plans for a connector between Route 72 and I-291 here, but by 1979 I-291 had already been cancelled. Called the "Highway to nowhere" by New Britain's mayor, this stub sprouted weeds until July 17, 1986, when the $12.3M, 1-mile Taras Shevchenko expressway (secret route SR 506) was built from there to Route 175. For a few years, this was signed "To Route 175" northbound and "To I-84 and Route 72" southbound.
In December 1989, Route 9 was extended west from the I-91 interchange to the Berlin Turnpike, to connect with the old Route 72 freeway which opened there in 1961. Route 9 incorporated Route 72 from there into New Britain, and continued north along the Shevchenko Expressway into Newington. The $41M link was delayed slightly in 1986 when an Wangunk Indian encampment was discovered during excavation.
On September 30, 1992, the 3.8-mile, $32.5M final leg of Route 9, named the Iwo Jima Highway, was completed from Route 175 along the old I-291 corridor to the four-level "stack" interchange at I-84. This interchange had sat idle for decades, and now is half-used: there's no road continuing north of I-84. When this section opened, it and the Shevchenko expressway were christened Route 9.
Here's a map of the final Route 9 configuration, with the planned I-291 corridor in green: