Interstate 384 was first proposed in 1953, as a relocation of US 6 south of Manchester. Public hearings were held in 1959, and the highway opened in Sept. 1971, from Spencer Street to Bolton Notch. The opening ceremony was delayed when Gov. Meskill's driver, a state trooper from another part of Connecticut, got lost.
In 1968, when the Federal Highway Administration authorized 1,500 additional miles of interstate highways, including a link from Hartford to Providence by way of Manchester. This was originally to be a new eastern Interstate 82.
However, an alternate numbering proposal -- redefine I-84 to extend east to Providence, was adopted in 1971, and I-384 opened late that year signed as I-84.
In the early 1980s, I-84 to Providence was cancelled. I-84 was returned to its original Wilbur Cross Highway alignment (where it is today) and the Manchester part of I-84 became I-384 on Dec. 12, 1984.
For more information, see From Hartford to Providence.
The 1959 plan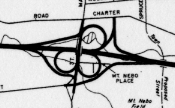 A seven-ramp interchange was planned at Route 83; by the time it

was built, the two ramps in the southwest quadrant were deleted. Also see entire 1959 Manchester plan (108K).

By the time a public hearing was held in October 1959, an alternative alignment north of Middle Turnpike had already been discarded, and the favored proposal was very close to the way I-384 was constructed in 1971. The interchanges at Spencer Street and South Main Street (Route 83) were revised, and the Gardner Street ramps (see 1959 plan (108K)) were instead built at Wyllys Street. The highway's path south of the business district and higher populated areas minimized the number of properties affected and served as a buffer between the city and the suburban areas further south.
Design features
The interchange at Route 83 in Manchester includes baseball and tennis facilities around the hook ramps in the northeast quadrant; this sense of cohabitation with the surroundings earned I-384 a mention in the US DOT book "A book about space" (TD 2.102:Spl 1968). The article includes a diagram of the Route 83 interchange with a sixth ramp, from I-384 east to Route 83 south, that was not built. (The 1959 plan included seven ramps.)
If that wasn't enough, I-384 also sports a fish-ladder, given similar praise in "A Nation in Motion: Historic American Transportation Sites."
Connecting to the rest of the world
Until the late 1980s, the fish-friendly I-384 did not have a direct connection to I-84, but instead ended at Silver Lane. The interchange with I-84 and I-291 was completed as part of the I-84/86 reconstruction. The first ramp, from I-84 east to I-384 east, opened October 9, 1986.
The state plans an extension of I-384 to Willimantic, to connect with the freeway portion of US 6. This is part of the original I-84 easterly route. This has been running into significant opposition; see the Friends of the Earth editorial. Almost everyone agrees that the "Suicide 6" corridor needs to be improved (it was featured on a Dateline NBC story about unsafe roads) but disagree on how it should be done.