The Map Inside: Connecticut Officials: 1935
This exhibit shows how the Connecticut official tourist map has changed since the 1930s. You can start with the introduction or browse year to year. The scans may not be actual size (150 dpi), but are consistent with each other.
Other years:
1930 1934 1935 1938 1941 1942 1943 1949 1952 1955 1956 1957 1959
1960 1961 1963 1965 1971 1972 1975 1989 1998 2000 2001 2002
I'm treating the 1935 map differently: I don't have an actual map, but just a photocopy from the New York Public Library. It doesn't scan well.
The 1935 map looks much like the 1934, even down to the nondescript cover. The one scannable item of interest is a list of named highways, most of which span several state routes. We'll talk about those here.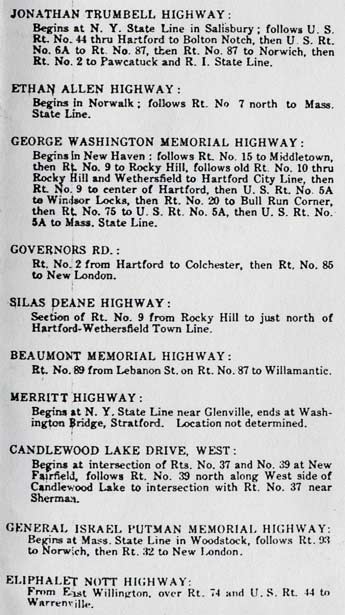 Connecticut has dozens of named highways today, but most names are ceremonial, and only a few (Merritt, Wilbur Cross, Silas Deane) are used by motorists in place of a route number.
The Jonathan Trumbull Highway (not "Trumbell") is an ambitious route, over 100 miles; but today is marked (as a street name) only in Andover and Columbia.
The George Washington Memorial Highway appears to be the result of gerrymandering.
The Governors Road has been mentioned in other documents around this time.
The Silas Deane Highway is now Route 99, and is one of a few state highways known more by its name than its number.
The Beaumont Memorial Highway is now Route 289.
The Merritt Highway reflects the original plan for the Merritt Parkway, including a terminus at US 1 near the Stratford - Milford town line.
The Gen. Israel Putnam Memorial Highway (not "Putman") follows today's Route 169 to Norwich and Route 32 to New London. It bypasses the town of Putnam.