Poquetanuck Road
The part of Route 2A between Routes 12 and 117, Poquetanuck Road, dates back to the early 20th century. In the late 1920s, it was called state highway 179; on or after the 1932 renumbering, it became unsigned SR 664.
In 1949, Poquetanuck Road was incorporated into Route 27, the Colonel Ledyard Highway. In 1963, when Route 27 was truncated, it reverted to an unsigned route (SR 640); and on Dec. 1, 1967 Poquetanuck Road became part of Route 2A.
The Route 2A Freeway
In 1961, the state General Assembly issued an Act providing for the construction of the Thames River Bridge and approaches, from the Connecticut Turnpike (now I-395) in Montville and Route 12 in Preston. Planning was completed in May 1962, and completion to Route 12 expected in 1965. The highway was planned to extend to Route 2 by 1972.
Route 2A opened on Dec. 1, 1967 as a "Super 2" freeway: only one lane in each direction, but access fully controlled. There were two interchanges: a trumpet at the Connecticut Turnpike (which survives today) and a half-diamond interchange at Route 32 (details below). After passing a toll station and crossing the Thames River, the new highway ended at Route 12. Route 2A then continued along existing surface roads, including Poquetanuck Road, to end at Route 2 and Route 117 in Preston.
Completing the Route 32 interchange
The original Route 2A interchange at Route 32 was a half-diamond, with ramps to and from the east. This decision was made under some controversy.
A full interchange had been considered, but the state's Bond Declaration for the Connecticut Turnpike, at the time a toll road, prohibited adding access points that could decrease toll revenue (unless total revenue exceeded debt service by 20%). A full interchange at Route 32 could enable motorists to easily bypass the Montville toll station, just south of the Turnpike/Route 2A interchange.
In May 1967, several months before Route 2A opened, a state senator submitted a bill to provide for a full cloverleaf interchange at Route 32.
A few years after Route 2A opened, studies showed that while the bridge had not yet appreciably relieved traffic through Norwich (one of the design goals), traffic on Route 32 had surged, partly because of poor access to the underused Turnpike to the west. In 1971, completion of the interchange at Route 32 was recommended. On August 30, 1974, new ramps were opened to make a complete diamond interchange.
The Mohegan - Pequot Bridge
The two-lane, 1435-foot Mohegan - Pequot Bridge crosses the Thames River at a height of 75 feet. It opened on Dec. 1, 1967, along with Route 2A. A toll station on the west side of the river collected tolls (15 cents for autos) in both directions.
Though Route 2A was an alternate for Route 2 in Norwich, planners hoped the new bridge would also relieve traffic to the south: namely the narrow, congested Gold Star Bridge over the Thames River on I-95, a notorious bottleneck until a second span was opened in 1973.
In the first months after its opening, complaints about the Mohegan - Pequot bridge poured in. The lightly-traveled route did not relieve Gold Star Bridge traffic as proponents hoped; and Route 2A drivers disliked the bridge's narrow, sparsely lit, undivided roadway. Drivers buying commuter books of toll tickets, good only for a month, were often unable to use all the tickets before they expired. Toll revenue was so light that critics wondered if the bridge would ever be paid off, and some called it a "white elephant."
On Oct. 1, 1968, the state changed the ticket book prices and shelf life to make the bridge more attractive. The expiration date was raised from 30 days to 60 days; and the price dropped from $3.50 for 42 tickets (8.5 cents each) to $2 for 40 tickets (5 cents).
Officials continued trying to entice more traffic across the bridge. The single-crossing 15-cent toll was cheaper than the 25-cent toll on the Connecticut Turnpike. During Memorial Day weekend in 1972, ConnDOT and the state police established a "Route A" bypass for I-95 in the area, using Route 52 (now I-395), Route 2A, and Route 2.
Cash flow remained a problem. The tolls were intended to repay its $7.5 million cost, but for all except two break-even years, the bridge ran a deficit: more was spent on operating the toll booth than was collected in tolls. In 1976, after a raise to 25 cents, operating the bridge still cost the state $45,000.
In 1977, the state legislature's Transportation Committee joined Norwich area officials in calling for removing tolls from the bridge. On Oct, 1, 1980, the bridge was made toll-free.
Bridge and freeway names result of compromise
You won't find the Clifford C. Oat Highway on any map; or, for that matter, the Fort Shantok Connector. Those were preliminary names for the Route 2A freeway. The Fort Shantok Bridge became the Mohegan - Pequot Bridge, whose name did persist. A compromise for the newer names was worked out by state and town officials in May 1967.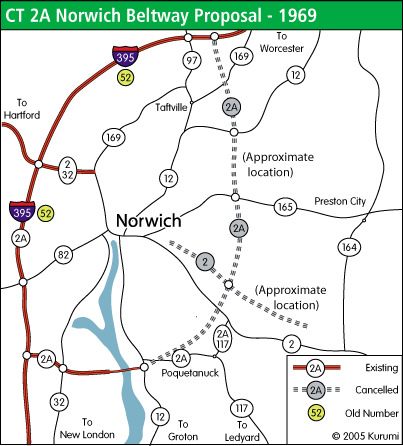 Proposals to extend Route 2A
In 1963, the state was already planning for Route 2A to extend to Route 2 near Brickyard Road (west of Route 117) in Preston on new alignment. This was expected to be complete by 1972. When Route 2A opened in 1967, funding issues led to a temporary end at Route 12 for the new highway.
In 1968, State Sen. William B. Stanley asked the DOT to accelerate planning for a Route 2A extension, reasoning that a complete highway to Route 2 would make the Mohegan - Pequot Bridge more attractive and help relieve Gold Star Bridge traffic.
In 1969, the state proposed extending Route 2A as a circumferential northeasterly to Route 52 (now I-395) east of Norwich -- a mirror image of the northwesterly bypass Route 52 made. The $22.5 million project would provide interchanges at Route 12, a proposed Route 2 freeway in Preston, at Route 165, at Route 12 again, and at Route 52 east of Route 97.
At the same time, the state was planning to have the future Route 78 extend northwest from I-95 at Stonington to the vicinity of the Mohegan - Pequot bridge; conceivably today's Route 2A freeway would have been part of a longer Route 78.
However, 1970s funding problems and highway opposition defeated the complete bypass and Route 78 plans, and even the continuation from Route 12 to Route 2 in Preston. In 1975, the state notified the Southeastern Connecticut Regional Planning Agency that because of bonding limitations, the next 20-year DOT master plan would have Route 2A as only a "Super 2" (two lane undivided highway) from Route 12 to Route 2, and Route 78 would also be scaled back to two lanes between Route 2 and I-95 in Stonington. As it turned out, neither segment was built at all.
Casino Traffic forces upgrades in 1996
"This is the biggest thing I've ever done... Normal construction takes normal time, but this, we're working 60 hours a week. After 40 hours, yes, we pay workers time and a half."
The Mohegan Sun Casino, which opened in October 1996, required a fast-track upgrade of Route 2A between I-395 and a new four-lane access road. The casino builders (the Waterford Hotel Group) funded the $29 million, 9-month upgrade: widening Route 2A to four lanes in that section and adding an interchange at Mohegan Sun Boulevard. Contractors broke ground in January 1996 and finished by October. During this upgrade, exit numbers were added for Route 32 and Mohegan Sun Boulevard.