Routes 95 and 211, Sterling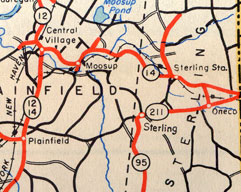 This 1948 map scan shows how Route 211 seemed to be another number for part of state route 95.
Commissioned in 1932, the old state route 95 followed today's Route 49, from Route 2 to Route 211 (today's Route 14A). Route 211 ended 0.03 miles to the west at the Plainfield town line, and extended 3.3 miles to the east to end at Route 14.
"Route 95 Extension" and Route 95A
The configuration of routes 95 and 211 ending at each other seemed temporary to me, as if the state intended to either extend Route 211 west or extend Route 95 north. Instead, in 1950 Route 95 was extended east along Route 211 to Route 14, and Route 211 was deleted. The 0.03-mile leftover section of Route 211 became Route 95 Extension, an entry in the highway log that I'm not sure was ever signposted. The Route 95A designation seems to overlap with Route 95 Extension as well.
I-95 needed the number
In 1958, the newly opened Connecticut Turnpike carried the new Interstate 95 designation up to Waterford; I-95 was slated to continue east on a new expressway through New London, Groton, and Stonington. That year, state route 95 was changed to Route 49, and the old state Route 84 (now Route 184) became state Route 95, to guide motorists through the area until I-95 proper was completed.
In November 1963, the State Highway Department announced planned number changes that would take effect when I-95 opened in the area. State Route 95 would become Route 184; and Route 117 would be extended southward from Route 184 to US 1. I-95 opened here on Nov. 12, 1964.