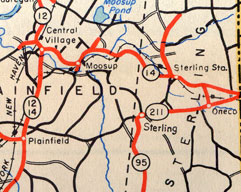 This 1948 map scan shows how Route 211 seemed to be another number for part of state route 95.
Route 211 no longer exists. Commissioned in 1932, the 3.33-mile route followed present-day Route 14A in Sterling, from the Plainfield / Sterling town line, just west of state route 95 (today's Route 49), to meet Route 14 at the Rhode Island state line.
The segment of Route 211 west of Route 95 was only 0.03 miles long, and I'm guessing it was not signed. This left the motorist with an intriguing intersection at Sterling Hill where routes 95 and 211 appeared to end at each other.
I'm not sure what the plan was for routes 95 and 211, as this arrangement seemed temporary. Perhaps Route 211 would have been extended westward, but a dispute ended state maintenance at the town line. Or Route 95 might have been planned to continue north, perhaps along Sterling Hill Road, to Route 14 at Moosup.
In 1950, Route 211 was deleted. Most of it became part of Route 95, except for the 0.03-mile segment to the west, which was designated "Route 95 Extension" in the highway logs, and Route 95A in the spreadsheet. It's doubtful this route was signed.
In 1958, Route 95 became Route 49, to avoid a number conflict with Interstate 95. In 1963, the former-former Route 211 became part of Route 14A.