There were three instances of Route 8A, one of them comparatively well-known.
Route 8A, Stratford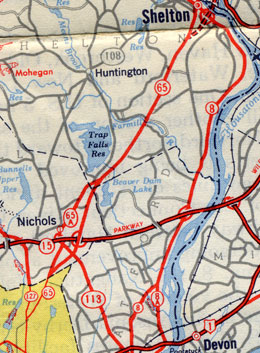 This 1949 map scan shows the historic alignments of routes 8, 8A and 65 south of Shelton and Derby.
Stratford: 1932 - 1951
In 1932, Route 8A was created along East Main Street in Stratford, leading from Barnum Avenue (US 1) to Main Street (Route 8 back then, and Route 110 now). Its length was 1.31 miles. Some maps show this as part of US 1A as well.
In 1951, Route 8 was redefined to end in Bridgeport instead of Stratford, replacing Route 65. The Stratford portion of Route 8 became part of Route 110. Route 8A officially became unsigned state road SR 708.
In 1963, SR 708 became part of Route 110, which was adjusted slightly in the area. During its dozen years of existence, SR 708 had varied treatment from mapmakers. The 1961 state map still called it Route 8A, even though Route 8 had been gone for a decade. Some USGS maps showed this as Route 110A, which would make sense, except I have never seen this number mentioned in any ConnDOT records.
Seymour: 1936 - 1962
The original Route 8 going northward through Seymour followed Broad Street (now Route 313) across the Naugatuck River, and Main Street (now Route 115) to a short overlap with Route 67. In 1936, Route 8 was moved to River Street (also now Route 313), and crossed the river with Route 67 on Bank Street. The bypassed part of Route 8 became the 0.47-mile-long Route 8A. I haven't seen this on maps, and it might not have been signed.
Route 8A was cancelled in 1962. The Main Street portion became a short extension of Route 115. Broad Street became SR 713, which a year later became the basis for numbering Route 313.
Derby and Ansonia, 1955 - 1960
In 1955, a segment of the Route 8 freeway opened, leading from the Commodore Hull Bridge over the Housatonic River to Seymour Avenue (exit 17). The old alignment of Route 8, following Elizabeth Street and Seymour Avenue from Route 34 to the new Route 8, became Route 8A. I haven't seen this on maps, and it might not have been signed.