Interstate 691 was envisioned as part of a planned 40-mile expressway from Southington to Willimantic, via Meriden, Middletown, and Marlborough. Part of US 6A since 1941, the surface route along these towns, mostly two lanes wide, became state route 66 in 1968.
In 1959, in response to a state General Assembly Public Act, a location study was done for the relocation of US 6A between future I-84 in Southington to 1/2 mile east of the town line in Middlefield. In August and September of that year, public hearings were held, and the corridor was approved.
In 1963, the state announced plans for a 40-mile US 6A expressway, four to six lanes wide, from Cheshire to Willimantic via Middletown.
The first portion of future I-691 opened in 1966, from Broad Street (US 5) easterly to I-91 (the roadway continued to the end of today's Route 66 expressway.) The expressway may have been signed US 6A for a few years, but by 1968 was signed state route 66. Provisions were made for ramps to and from Route 15 to the north, but to this day only a 691 westbound to 15 northbound ramp is open.
In 1971, the Route 66 expressway was extended west to Exit 4 (which now serves Route 322). West of that point, Route 66 followed the two-lane Meriden-Waterbury Turnpike to I-84 in Southington. In December of that year, a design hearing was held for the final expressway link to I-84.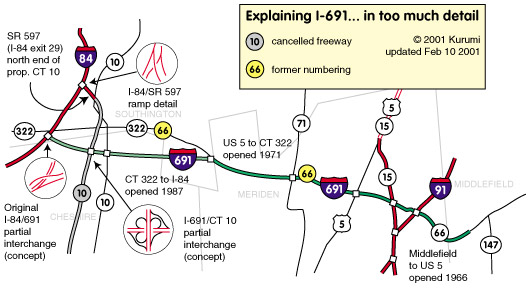 alt="Map of I-691 with opening dates and role of proposed CT 10 expressway">
Route 10 cancellation changes I-691 plans
In the original plan for completion to I-84, the Route 66 expressway would parallel the Meriden-Waterbury Turnpike to the south. Interchanges would be provided at existing Route 10, a proposed Route 10 freeway, and I-84. The Route 66 / I-84 interchange would not be complete; traffic from 66 west to I-84 east, or I-84 west to 66 east, would use part of the 10 freeway, which would intersect I-84 at exit 29. (A portion of this freeway was built, as the long exit 29 ramps officially called SR 597.)
However, Route 10 south of Route 66 (toward New Haven) was cancelled as a result of local opposition. Plans for the northern part (SR 597) were kept alive for a few years, but in the mid-1970s it was determined that the disadvantages (environmental and lost housing) outweighed the lighter traffic SR 597 would serve. With that link gone, the interchange at 66 and 84 was redesigned to provide full service.
The 1975 transportation plan estimated the total cost at just under $26 million, with work to be complete by 1978. The schedule slipped, and in 1978 another public hearing was held. By this time, Connecticut had obtained interstate designation for the highway, and it would be called Interstate 691.
In the late 1980s, Connecticut commenced closing the gap between Exit 4 and I-84, as it did in several other parts of the state. At first, a section from Exit 3 (Route 10) to Exit 4 opened, with guide signs at the eastbound entrance reading [blank] EAST / Meriden. In December 1987, the remainder opened, including an interchange with I-84.
Concurrent with the opening, the state renumbered the existing expressway and some nearby routes. The expressway between I-84 and I-91 was designated Interstate 691. The portion east of I-91 remained Route 66, which now ended at I-91. The Meriden-Waterbury Turnpike segment of Route 66 became an extension of Route 322.
Since the SR 597 interchange was never built, I-691 offers two exit numbers for the same interchange at I-84: exit 2, I-84 eastbound, and exit 1, I-84 west. As a contrast, some states with milepost markers have an exit zero at one end.
About that Middletown-Willimantic expressway...
Building an expressway from Middletown eastward hasn't been spoken of seriously in quite some time. The state had been mulling over building a Meriden - Middletown expressway, but is now fighting a battle over four-laning Route 66 there instead.
Funding and Designation
I have conflicting sources from the same agency (Federal Highway Administration) as to when I-691 was accepted into the Interstate system. 1.6 miles of its length were part of Connecticut's share of the original 42,500 miles of interstate highway. The FHWA route log of 1978 shows I-691 at this mileage. The 1971 route log does not include I-691 at all.
The remaining 7.3 miles are Howard-Cramer miles, named for a James Howard / William Cramer amendment to the 1968 Federal Aid Highway Act adding 200 miles to the system. In 1973, 500 more miles were added. It appears I-691 was partially added to the system in the mid-1970s and the Howard-Cramer miles added afterward.