Before 1932: Bethel
In the 1920s, State Highway 180 followed today's Route 58 and Route 107 south of Route 302 in Bethel.
In 1935: Proposed Durham - Haddam road
Proposed Route 180, 1930s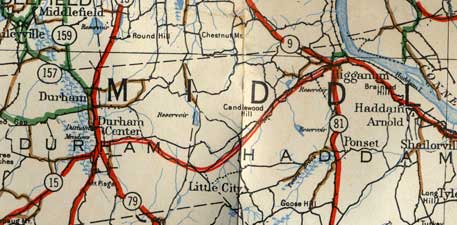 This scan from the 1938 official state map shows the proposed trunk line route leading from Durham to Higganum in Haddam. The route follows Maiden Ln, Bear Rock Rd, Higganum Rd, and Candlewood Hill Rd.
In 1935, the state assigned Route 180 to a proposed trunk line route from Durham to Haddam. The road was never built. I haven't found details, but imagine Route 180 would have extended east from near today's Route 17 / Route 68 intersection in Durham to the Route 81 / Route 154 intersection in Higganum.
If Route 180 were built today, it would form a natural extension of Route 68. The latter route didn't exist in Durham in 1935 when Route 180 was proposed.