There may be some 90-year-old documents I haven't unearthed yet; but so far, Route 180 is the oldest known cancelled highway in the state, that received a number but was never signposted or built. The 1930s proposal remains a pair of local roads connecting neighboring towns.
Before 1932: Bethel
In the 1920s, State Highway 180 followed today's Route 58 and Route 107 south of Route 302 in Bethel.
Proposed 1932: Glastonbury - Hebron
In late 1931, state planning maps had Route 94 marked instead as Route 180. There were several edits in the months leading up to Jan. 1, 1932, and that highway instead debuted as Route 94.
In 1935: Proposed Durham - Haddam road
Proposed Route 180, 1930s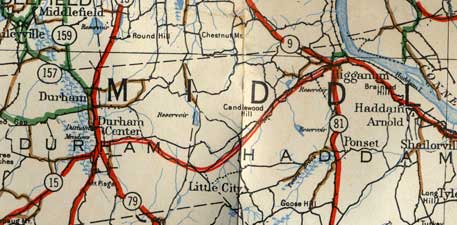 This scan from the 1938 official state map shows the proposed trunk line route leading from Durham to Higganum in Haddam. The route follows Higganum Road and Candlewood Hill Road.
In 1933, the State General Assembly passed the following Special Act:
Be it enacted by the Senate and House of Representatives in General Assembly convened: The highway commencing on Route No. 15 at the south end of Durham Center Village and extending in a general easterly direction to Candlewood Brook and thence along the general location of Candlewood Brook to the Village of Higganum at the intersection of Route No. 9 and Route No. 81, is included in the trunk line system of highways.
On today's maps, that route would extend 8.5 miles, from Route 17 in Durham to Route 154 at Route 81 in Haddam.
In 1935, the state assigned Route 180 to that proposed route. That number was never signposted or shown on public maps, and was eventually removed from the state highway system.
If Route 180 were built today, it would form a natural extension of Route 68. The latter route didn't exist in Durham in 1933 when Route 180 was proposed.