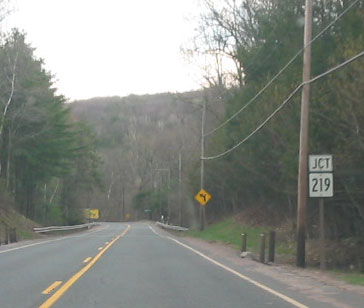 Approaching Route 219 on a lonely stretch of Route 20, on a cloudy day in Granby. Photo taken April 2004 by Kurumi.
If you're looking for variety, Route 20 fits the bill, starting as a scenic country road and ending as a freeway. It winds through state forests, skirts the north side of Barkhamsted Reservoir, then widens to four lanes as it approaches Bradley International Airport. The final stage is a segment of the 1960s Bradley Airport connector freeway, widening once more into a modern 3-level interchange at I-91.
In its history, Route 20 was diverted twice (by a reservoir and airport), truncated (from its historical route extending to Route 15 in Union), and included in a statewide freeway plan.
On October 10, 1999, the Bradley Airport Connector segment was named the 82nd Airborne Memorial Highway.