Original CT 15A in Portland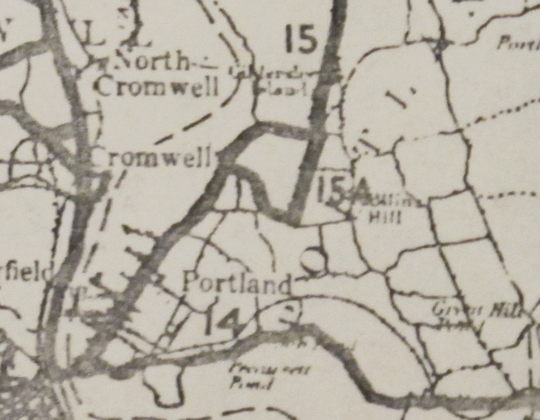 The original CT 15A in Portland, shown in the 1932 state highway map, includes a horizontal section (Summer Street) that's no longer part of the highway system.
Portland
Portland's highway network in 1932 shows little resemblance to today's. Route 14 and Route 15 crossed the river from Middletown over the precursor to the Arrigoni Bridge. Route 14 continued east to East Hampton. Route 15 branched north to Glastonbury using the following streets:
Main Street (today's Route 17A), from the old bridge to Glastonbury Turnpike
Glastonbury Turnpike (part of today's Route 17), from there to the Glastonbury town line
Route 15A formed a 1.7-mile loop with Route 15, along the following streets:
Summer Street and Bartlett Street (no longer a state highway), from Main Street (Gildersleeve) to Gospel Lane
Gospel Lane (part of today's Route 17), northerly to Main Street at Glastonbury Turnpike
The southern part of today's Route 17 along Gospel Lane, from Route 66 to Bartlett Street, was SR 616.
Why was Route 15A designated here? I don't have the official reason. My guess: since the bypassed part of Route 15 (now Route 17A) was prone to flooding, Route 15A provided a drier, inland route.
In 1939, the state straightened some of this out. Gospel Lane (Route 15A and SR 616) became part of Route 15 (today's Route 17); and Main Street became Route 15A (today's Route 17A). The crossover part of former Route 15A (Summer Street) became SR 446.
On May 1, 1948, the state stitched together several highways, including the Merritt Parkway, into a cross-state Route 15. The leftover parts of Route 15 became Route 17; and Route 15A became Route 17A.
Union
Union's Route 15A was 4.29 miles of Buckley Highway, from today's I-84 exit 73 (Route 190) to exit 74 (Route 171). In 1939, a new 2-lane stretch of Route 15 opened here, where I-84 is now. The former alignment of Route 15, Buckley Highway, became Route 15A.
In 1948, Route 15A was deleted in Union. The northern part became part of Route 198 in 1950, and part of Route 171 in 1963 (where it remains today). The southern part became part of Route 190 in 1962.