I-115 (preliminary numbering)
California
(link)
On April 1, 1958, California submitted to AASHO a numbering plan for its proposed interstates, including 3-digit spurs numbered in the low 100s and not associated with their parent interstates. Interstate 115 was the proposed number for what became the original alignment of I-505. [17

]
This number was not compliant with AASHO's numbering convention and was rejected.
On August 7, 1958, California had bought in to the system and submitted I-505. This was approved, along with the rest of California's original interstate highway system, on Nov. 10, 1958. [18

]
(Earlier in 1957, the state had submitted I-7 for this highway.) [17

]
See also:
I-115
Montana
(link)
1.19 miles [3

]; east from I-15/I-90 into Butte. A few years ago there had been some uncertaintly among road enthusiasts whether Interstate 115 was signed. Since then, several people have visited the area and proved this in the affirmative. (See the AARoads site for some photos).
I-115 has been on the federal rolls since at least 1971. [6

] Between the 1998 and 1999 federal highway logs, I-115 lost 0.20 mile; the short getting shorter. [1

] [2

]
Unlike Montana's even shorter I-315 that overlaps existing routes, Interstate 115 was a new highway and obtained explicit I-115 signing. However, apparently driver confusion over I-115 versus I-15 had led to discussion about removing the I-115 shields in 2000. [7

]
See also:
I-215
California
(link)
54.50 miles [3

]; Barstow and Escondido Freeways, Riverside - San Bernardino. Formerly part of I-15 (1960s) and US 395 (until 1968), then I-15E (until early 1980s). The last section of freeway to complete (1996 or 97) was between CA 60 and CA 74. [5

]
Officially, 14 miles of I-215 north of I-10 were created in February 1972 from existing parts of Interstate 15 when it was shifted westward between Temecula and Devore. In October 1972, 29 more miles were added, from CA 60 south. In December 1973, the gap between I-10 and CA 60 was added. All three segments were non-chargeable miles. [4

]
In April 1973, I-215 was officially renamed I-15E, but was changed back in June 1982. [4

]
At one of the last surviving at-grade intersections, between Riverside and Temecula, there were "End Freeway" and "Begin Freeway" signs each about 10 feet from the intersection. [14

]
More work is planned: I-215 and state routes 60 and 91 meet at a conventional cloverleaf, with southbound I-215 traffic having to take a loop ramp just to stay on 215. CalTrans is reportedly planning a flyover ramp for this traffic.
See also:
I-215
Nevada
(link)
Interstate 215 is part of the Las Vegas Beltway, a 53-mile combination freeway and expressway, partially complete. The I-215 portion leads from I-515 (interchange under construction) westward to I-15. The highway continues as Clark County route 215 in a semicircle to meet I-15 again northeast of Las Vegas.
Designation
I would have included an official mileage here, but according to the 2002 federal highway log, I-215 doesn't yet exist. [3

] The Nevada state highway log for 2002 lists I-215 as extending from I-15 to Warmsprings Road, for a length of 2.417 miles. [16

] For its part, AASHTO approved the I-215 designation for 18.9 miles of (then unbuilt) highway, from Tropicana Ave to US 95 (I-515) on April 17, 1993 [20

]. (The portion west of I-15 is still signed as a county route, not an interstate.)
The I-15/McCarran Airport connection opened on Dec. 31, 1995. An extension to Gibson Road in the southeast opened on April 29, 2000 [8

]. On Nov. 25, 2003, the entire beltway was open except for the future I-215/I-515 interchange. [19

]
In April 1998, chase scenes from "Lethal Weapon 4" were filmed on a section of I-215.
See also:
29.02 miles [3

]; 270° beltway in Salt Lake City. Proposed in early 1960s as a west loop only of I-15 (the southeast quadrant would have been I-415); constructed in fits and starts from the mid-1970s until completed around 1990.
In 1997 Utah performed a "pizza slice" widening (you know, cutting eight slices instead of six because people are hungrier) -- a fourth lane was added in each direction by restriping the existing lanes. [9

] The reason for this: a temporary increase in capacity to help traffic bypass construction on I-15. This proposal, by the consortium that won the construction contract, won kudos from UDOT as a creative solution to traffic needs during the work. Sometime after the I-15 project is complete, I-215 will be restriped back to the original six lanes. [10

]
See also:
I-315 (not signed as interstate)
Montana
(link)
0.83 miles [3

]; Interstate 315 is a secret number for part of Business Loop 15 in Great Falls. It's not signed as I-315, but has been an official route since the 1960s.
The contract for Interstate 315 was completed Nov. 28, 1967, indicating a probable opening to traffic around that time. Since the highway is so short, and replaced well-known existing routes, there was some debate among state highway engineers whether or not to publically sign the route as I-315. Finally, a vote within the department was taken, and it was decided not to erect interstate signs. Chris Ward writes: "It is more of a funding concept than a route. The 'route' if you look at a map, is US 89 so they figured that would be more helpful to motorists." [7

]
An interchange was added at 14th St SW in 1996. Chris Ward writes: "The only conclusion was that it had to be exit 0." [7

]
Hidden things in Escondido
With a pub TV tuned to TBS, Robert Cruickshank saw a few minutes of
"Silent Predators", a cheesy made-for-TV (on TBS) flick about a growing San Diego suburb that has a rattlesnake infestation. In one of the shots we see Harry Hamlin's character driving past a freeway interchange with a curious sign: I-315, Escondido, Vista, Oceanside. I guess CA-78 wasn't good enough for the filmmakers, so they gave it a little upgrade! [12]
See also: Montana's other 3di: I-115
I-415 (numbered as another interstate)
Utah
(link)
Interstate 415 is a former number for a portion of I-215 in Salt Lake City. A 1967 Chevron SLC map and the 1965 Rand McNally atlas show the proposed southeast quadrant of I-215 numbered as 415. At some point (1970 or earlier), before I-215 opened, the notion of having this segment separately numbered was dropped. [6

]
I-515
Nevada
(link)
20.54 miles [3

]; east, then south, from I-15 in Las Vegas to US 93/95 split in Boulder City. Interstate 515 is co-signed with US 93 and 95.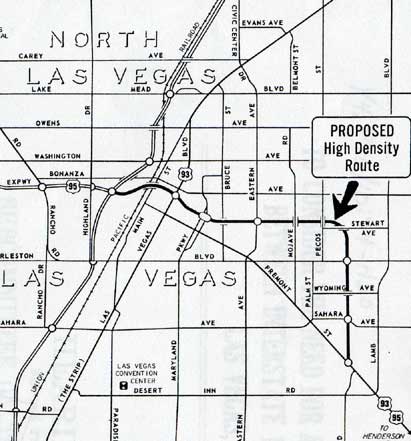 Proposed Las Vegas Downtown Spur. This eventually was built and became I-515. From a congressional hearing before the Subcommittee on Transportation in November 1975.
A spur from I-15 into Las Vegas and connection to US 95, shown above, had been planned since a Wilbur Smith transportation study was conducted in 1962. The next year, the city and county adopted the recommended freeway facility.
Six full interchanges and four grade separations would aid traffic along the route, which would provide access to major industry in Henderson, bedroom communities along the route, and tourist destinations such as Lake Mead.
However, the play lay dormant until the mid-1970s, when it was added to a number of small nationwide Interstate highway proposals, totaling 76 miles, submitted to the FHWA. The estimated cost was $72 million. [15

]
The freeway was constructed in stages over about 15 years from the early 1980s, and was designated I-515 around 1995.
Between Lake Mead Road and the Boulder Highway, construction started in 1991 and ended in 1994. [13

]
In March 2001, researchers from the University of Nevada at Reno announced a multi-year study of the downtown Las Vegas viaduct section of Interstate 515. Engineers will examine how the 1960s-era narrow highway might respond to an earthquake. This could be the start of an NDOT effort to have the viaduct replaced. [11

]
Now I finally know what that Who song was about (grin).
Route Log and Finder List - Interstate Highways, FHWA, 1998.
Route Log and Finder List - Interstate Highways, FHWA, June 30, 1999.
Route Log and Finder List - Interstate Highways, FHWA, Oct. 31, 2002.
"History of California's Interstate Routes." California Department of Transportation, November 1984.
Cooper, Grant. "Some observations about CA 3-di's." Personal email, March 16, 1997.
Route Log and Finder List - Interstate Highways, USDOT, 1971
Ward, Chris. "interstate design." Personal email, Jan. 25, 2000.
Mojave, Nick. "215 LV Beltway southern leg done." Online posting, misc.transport.road, April 29, 2000.
Sanders, Rob. "Utah's 215." Personal email, Aug. 21, 2000.
Darren, Timothy. "Utah's 215." Personal email, Jan. 30, 2001.
Mojave, Nick. "I-515 to be studied." Online posting, misc.transport.road, March 22, 2001.
Cruickshank, Robert. "I-315." Online posting, misc.transport.road, May 5, 2002.
Las Vegas Review-Journal
Wiley, Mike
"To consider the need for a highway connection between Interstate 15 and US 95 in Las Vegas, Nev.
"State Maintained Highways: Descriptions Index and Maps." Nevada Department of Transportation, dated January 2002.
Summers, Stephen. "Interstate system route numbering." http://www.nwindianahwys.homestead.com/INTER_MAIN.HTML. (29 May 2003)
Faigin, Daniel. "California Highways (www.cahighways.org): Interstate Highway Types and Interstate History." http://www.cahighways.org/itypes.html (29 May 2003)
Mojave, Nick. "Las Vegas Beltway Complete...sorta." Online posting, misc.transport.road, Nov. 26, 2003.
AASHTO SCOH. Report to the Special Committee on Route Numbering to the Executive Committee. April 23, 1993.