There have been four instances of Route 9A.
Middletown to Essex, 1968 - 1986
The most well-known Route 9A extended about 15.4 miles, from Route 9 exit 4 in Essex to Route 9 exit 10 (Aircraft Road) in Middletown. It replaced the former Route 9 when the final segment of freewway between Middletown and Old Saybrook opened on June 25, 1968.
In the early 1960s, the state did not intend to create Route 9A at all: the plan was to turn over maintenance of old Route 9 to the towns after the freeway opened. But towns along the route advocated for old Route 9 being kept in the system, and by 1966 the decision was made to keep it as Route 9A.
In Nov. 1984, state Sen. Richard Schneller of Essex introduced a bill to rename Route 9A as Route 154. His reasoning: it would create a simpler, additional route between Old Saybrook and Middletown.
In early 1985, the state agreed, noting that "A" designations were now discouraged, not only in Connecticut but nationwide. It planned to change Route 9A to an extension of Route 154 in about a year, "only if there was no outcry."
On June 1, 1986, the state made this change (though signs were changed a little earlier). Route 154 was extended further along Middlesex Turnpike to Route 153 at Ivoryton, then absorbed all of Route 9A to reach Route 9 in Middletown.
The number change did result in outcry from some residents and merchants along former Route 9A. Some pointed out that Route 9A was an obvious scenic alternate to Route 9, and the new Route 154 did not connote the obvious alternate to the Route 9 freeway that Route 9A did. Others didn't believe the change was worth the disruption. Some quotes:
"Route 9 and Route 9A play together very nicely." - Peter Kushkowski, Haddam resident
"In a sense, Route 9A was stolen from the citizens of Middlesex County. I want it back." - Kushkowski, in a letter to the editor
"My matches and business cards all have Route 9A on them." Georgeine Zupan, Haddam merchant
In 1992, the Hartford Courant published an op-ed advocating changing the number back:
Roads develop personalities for regular users. Route 9A...was an old friend. Route 154 is somebody's idea of making maps easier.
Route 9A to 154 not popular with some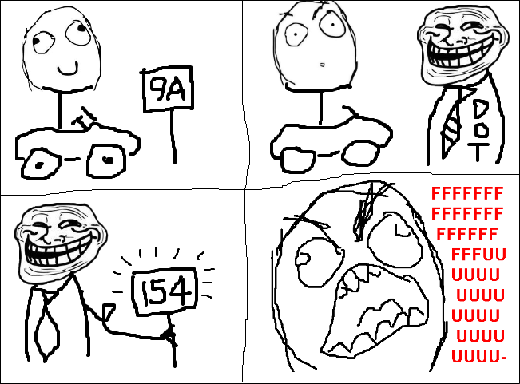 This is the first (and I promise, the last)
rage comic
on this site, depicting adverse reaction to the Route 9A number change.
One expects local old-timers to refer to highways by their old names (a practice that warms a highway historian's heart); but it surprises to see the Hartford Courant still calling the road Route 9A a dozen years after the change, on Mar. 14, 1998: "Savings Bank of East Haddam is seeking permission to build a full-service branch at Route 9A and Kings Highway."
In 2000, however, the newspaper redeems itself, in the "Ask the Courant" section:
Route 9A existed between 1968 and 1986 as a two-lane road that linked Middletown and Old Saybrook. Prior to 1968, the state Department of Transportation called it Connecticut 9, but local folks called it Route 9. It traversed Middletown and extended to Wethersfield.
In 1968 the new expressway between Cromwell and Old Saybrook was completed and designated as Route 9, which lies west of the old Route 9.
Old Saybrook, 1932 - 1940
Also on public maps was Route 9A in Old Saybrook, which followed Essex Road from US 1 to the Middlesex Turnpike, which was Route 9 at the time. Its length was about 2.5 miles. Some of the original Essex Road is gone now, displaced by the Route 9 freeway and interchange with I-95.
In 1940, the state changed the definition of Route 80, an inland east-west route from New Haven, to encourage more motorists to use it instead of US 1, the shore route. The eastern terminus of Route 80 was changed from Deep River to Old Saybrook. The revised Route 80 overlapped Route 9 in Essex and Old Saybrook, and replaced Route 9A to end at US 1.
Wethersfield, 1947/1955 - 1963
The Route 15 freeway crosses Route 99 in Wethersfield about 0.09 miles south of the Hartford city line in Wethersfield. In the 1930s, Route 99 was part of Route 9, which continued northerly along Wethersfield Avenue into Hartford. Circa 1940, the Southern Bypass highway, Route 15, opened, providing a more direct route to Hartford, and soon afterward, Route 9 was changed to follow that route.
In 1947, the leftover bit of former Route 9 leading from the Route 15 interchange to the Hartford City line was called "Route 9 Extension" in the highway logs. ConnDOT's route change history spreadsheet does not refer to Route 9 Extension, but does say that Route 9A was designated here in 1955. It's doubtful that short stretch of road was signed either way. In 1963, it was turned over to local maintenance.
Middletown, 1936 - ?
The most obscure Route 9A shows up as a spreadsheet entry, referring to a change in alignment for Route 9 in Middletown in 1936. My guess would be it involves East Main Street, but I don't have any other information.