---
These icons (

) show footnotes as tooltips... for some browsers.
I-805
California
(link)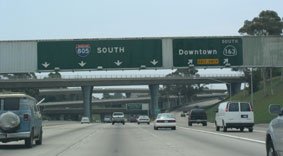 I-805 southbound, approaching a graceful 4-level interchange with CA 163. The bridge in the foreground is Linda Vista Road, not part of the interchange. Photo taken July 2003 by Kurumi. (see larger photo)
28.02 miles [
1

]; Jacob Dekema Freeway; serves San Diego. Parallels I-5 to the east. I-805 was approved as a chargeable interstate route in July 1958; [
4

] and was completed in 1975. [
2

]
The four-level interchange with I-805 and I-8 reportedly contains enough concrete to build a residential sidewalk from San Diego to San Francisco. [3

]
See also:
Route Log and Finder List - Interstate Highways, FHWA, Oct. 31, 2002.
Cooper, Casey. "Some observations about CA 3-di's." Personal email, March 16, 1997.
Siferd, Steven. "More info on I-805." Personal email, Nov. 13, 1997.
"History of California's Interstate Routes." California Department of Transportation, November 1984.