San Francisco's Freeway Plan
This map is adapted from the San Francisco Trafficways plan, adopted on July 17, 1951 and amended on May 19, 1955. The city's "Freeway Revolt," a 1959 Board of Supervisors vote to cancel 7 of 10 routes, killed most of the ones shown in gray.
Although the map encompasses most of the freeways once planned, it's a snapshot of a moving target. For example, not shown is a 1940s planned Panhandle Freeway, encompassing the Western Freeway and continuing as a different "Golden Gate Freeway" along Fulton Street to a Great Highway corridor freeway along the shore. See Dan Faigin's page for more information.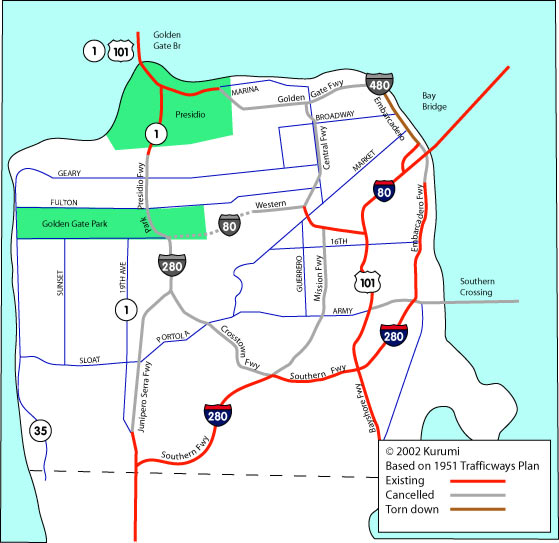 The 1951 plan did not number the routes. My map's numbers are based on existing routes (like US 101) and proposed routes shown on later maps (like I-280 through the Presidio).
Some sources conflict, as well. In the mid-1960s, Rand McNally atlases depicted I-480 along the Park Presidio Freeway, a route that would more likely be numbered I-280 or CA 1. In 1967, a Thomas Bros. city map showed I-280 along the Southern and Embarcadero freeways to the Bay Bridge (correct), but added CA 280 along the Park Presidio freeway, and for good measure, on the Bay Bridge. [5]
The discrepancies I've seen are summarized below. Rand McNally appears to be alone in routing I-480 along the Park Presidio Freeway (approx. today's CA 1),
Map
Arrow 1960
I-280
I-280
US 101, LRN 253
LRN 224, LRN 2
Thomas 1967
CA 280
CA 280
I-280
?
Rand McNally 1962, 1965
- - -
I-480
- - -
I-480
Rand McNally 1967
I-280
I-480 (N of GG Park)
I-280 (S of GG Park)
CA 82 (up to Army St)
I-480
Southern Crossing
The Southern Crossing here was examined in detail in a 1956 study; the Oakland side would have had two approaches, one through Alameda and one along Doolittle to the I-880/Hegenberger interchange.[1] A late 1940s plan discussed adding a parallel Bay Bridge span, as well as a Southern Crossing bridge/tunnel. This was back when the upper deck carried traffic in both directions, and the lower deck carried three lanes and the Key Rail system (Shell and GM were behind the dismantling of that system). [2] In a 1966 study, another alternative proposed extending a freeway from everyone's favorite I-238 across the bay to the Cow Palace area in Daly City. The Southern Crossing idea is still being bandied about, but not with much vigor. A 1970s referendum for the crossing was defeated, but people can always draft another referendum.
The "Shark Bridge"
A separately planned crossing would have extended the Central Freeway over a two-part suspension bridge to Tiburon, and from there to US 101. (The "Shark Bridge" name is my tip of the hat to San Jose's Tiburones, and was not to my knowledge ever proposed.)
The "Mid-Bay Bridge"
Rush Wickes writes of a once-proposed "Mid Bay" bridge to connect San Francisco and Marin County via Angel Island, touching down near San Quentin and the Richmond - San Rafael I-580 span: "Discussion and some approximate plans for this bridge were held and made, I've seen the documents for them myself at the DOT library in DC. It would have been a monster double suspension span, as I recall from SFO to Angel Island and a single span from Angel Island to San Quentin (or wherever on the north shore)." [4]
I-280
was originally to follow the Junipero Serra and Park Presidio freeways toward the Golden Gate Bridge; a junction with an extended I-80 was deleted in the mid-1950s. The Southern Freeway routing to I-80 at the Bay Bridge was adopted in 1961.
I-480
: A section of the Embarcadero Freeway north of the Bay Bridge did actually get built, but was damaged during the 1989 Loma Prieta quake and later torn down. The double-decked freeway was unpopular, and almost all but a few area businesses cheered its demolition.
I-80
: Much of the Western Freeway (the dotted line portion on my map) was already marked "Deleted Pending Further Study" on the Trafficways Plan.
CA 87
... was another proposed freeway (1960s) that would parallel US 101 to the east, and much of its alignment was over water. New fill? Tunnel? Pontoons? We may never know. See Dan Faigin's CA 87.
See also:
Sources
1. State of California Dept of Public Works, "A Report to the DPW on the Southern Crossing of San Francisco Bay", October 1956.
2. Rouse, Joe
4. Wickes, Rush, "SFO Cancelled Highways", personal email, Feb. 8, 1999.
5. Fischer, Eric. "1967 San Francisco map", personal email, July 4, 2001.
5. Sampang, Chris. "more map info for the SF map", personal email, April 26, 2002.
6. Fischer, Eric. "Rand McNally and I-480.', personal email, July 2, 2002.